4 review
$$
poisson & fruits de mer
poissons san marco à rabat est un restaurant spécialisé dans la cuisine de poissons à la plancha, ainsi que des pizzas cuites au feu de bois. le chef vous propose une carte variée qui allie créativité et recherche de saveurs de la mer. vous y trouverez un large choix de fruits de mer, de plats à base de crevettes, de calamars, de merlans, de soles, de saumon, d'espadon, de filet de saint-pierre, de loup, de dorade, de croquettes de poissons, de brochettes de poissons, et même de paella. un endroit idéal pour les amateurs de poissons et de fruits de mer préparés avec soin.
Trouvez le Meilleur Poisson and-fruits-de-meràRabat agdal
Recherche
Business Similaires

$$$
poisson & fruits de mer

$$
poisson & fruits de mer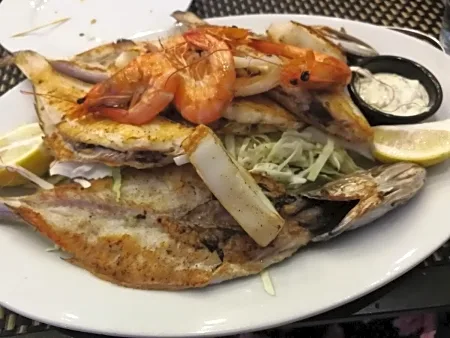 عشاب البحر / achab al bahr
$$
poisson & fruits de mer
Questions and Answers
Nobody has asked this business anything. Be the first!